Back in 2014, KOHLER asked us to develop and offer a website system for all of their dealers and provide the service to the ones interested. We ended up developing websites for over 60 KOHLER dealers across the country. Then around late 2016, KOHLER developed a microsite system and required it for all platinum dealers and above. So it's likely you now have two, three, maybe even four websites if you have a Generac site as well.
Which one(s) should you prioritize?
How do you make sense of it all?
Where should you focus your precious time and energy?
I hope to clarify some if not all of your questions below.
KOHLER Microsites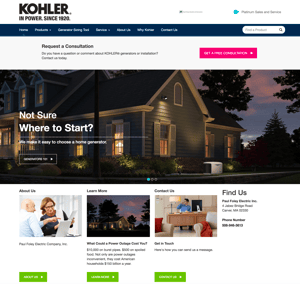 These microsites are connected to the dealer locator portal on the KOHLER website. KOHLER controls the content and visitor experience by managing it this way. They can also ensure that their dealers have a mobile-friendly website when someone finds them through the dealer portal. This is all aimed at maintaining the brand consistency for KOHLER. You can control your company description, but that's about it.
So for someone to find you here, they would do a search on Google like "kohler generator dealers near me" or simply "kohler generators."
What does it do for me?
It gives the visitor the ability to browse generator inventory and other products. You can also direct your prospects here if they are looking for detailed information and pricing on these products. And it's always up to date.
Keep in mind though, this website DOES NOT rank well in search engines and will only bring in business through the KOHLER pipeline. If you want to promote your business organically and in a way that you can control, your better off focusing elsewhere.
Do I need the microsite?
KOHLER says you need it, so yes, you need it.
Generator and Electrical Websites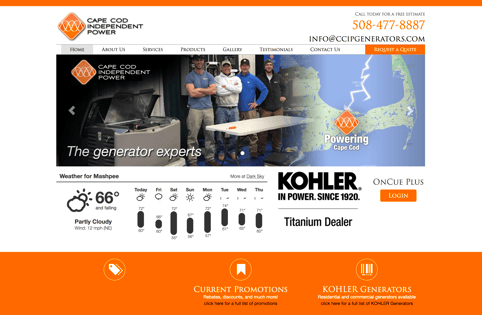 Your KOHLER dealer website is essentially your generator business website. It details your generator installation, service, and maintenance work. It doesn't include other services (if applicable) like electrical contractor or residential electric work. You also have editorial control over the content of this site.
If you strictly do generator installs, this is probably the only site that you have.
I only have the dealer site, now what?
The KOHLER site we built for you is good. It was very cheap for its time as well as its ongoing maintenance. But it's probably not bringing you business because there's just not enough content on your site. And because it's not synced up with your Google Business profile.
Update your
Google-My-Business profile
, sync your location and address and post to it regularly. This will get you found on local search quickly, but it's important to manage and keep consistent.
Read more about our services that take this burden off of you.
This is a very low cost marketing approach when you consider the potential revenue each new potential generator customer can bring.
I have both a corporate site and a KOHLER dealer site, do I need both?
No you don't need both. In fact, we recommend combining them. You can make a site that features both your electrical contractor work and your generator services. In Google's eyes, for rankings, they don't care.
Unless you have a separate physical location for your generator business, you should only have the one website. One place where you can send all of your visitors and Facebook fans to.
Check out these websites:
Northeastgeneratorsllc.com
This is a one-page website designed entirely to bring in generator business. Because their Google Business profile is synced up and regularly active, they're getting phone calls and better local placement all the time.
Ralcoelectric.com
This site is combined with electrical contracting work and generator work in residential, commercial, and industrial industries. RALCO ranks well for a lot of keywords in their area. The strategy right now is a push on generators, so their Google business profile shows mostly information about generators.
NEXT STEPS?
There's a lot you can do on your own, and we've outlined some of that on our guide for electrical contractors here. But if you're just too damn busy, we've created a very affordable strategy that relieves you of the pressure to get this done. And before you know it, you're phone will be ringing and JAM will be making it ring.
So don't let confusion slow you down from bringing in new business through the web. If you have questions and would like to speak to me directly, use my meeting link.