In today's ultra-competitive marketplace, showing up when a customer does a search can literally mean the difference between dominating your market and closing up shop.
Whether you're already doing well, or you're not sure where to start --- you need to be focusing on Google.
We're not talking about paying for clicks here. Pay-per-click is a whole different process.
This local organic SEO approach involves showing up because your web page (or Google listing) is the best result, not simply paying to be there each time (which as you probably know, can get very expensive).
So how exactly do you show up when someone does a Google search? What specific steps can you take to surpass your local competitors? How do you take the mystery out of Google's algorithm?
1. Get (very) familiar with Google My Business
Claim and take control of your Google My Business account so it reaches its fullest potential. Post updates, make sure information is accurate, analyze your performance statistics, and understand exactly how (and how often) searchers are finding you on the web. In 2019, having a firm grasp of Google My Business and its evolution of features is crucial for any business.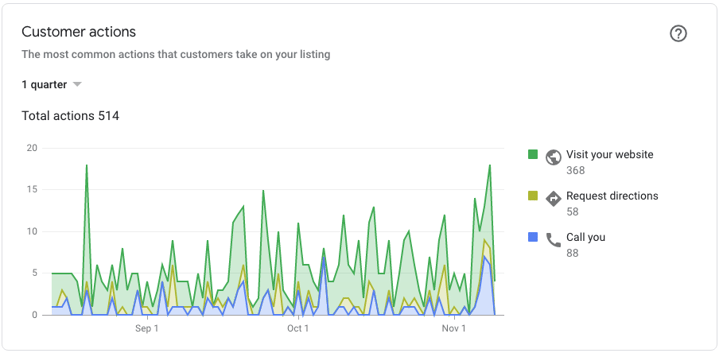 Above is a look at just some of the metrics the Google My Business dashboard provides (website visit button clicks, driving direction requests, and calls). Monitor these numbers on a consistent basis so you can track your progress.
Also, take full advantage of the new Google My Business posts feature. This allows you to post short updates and links directly to your search result listing. Taking just a few minutes per week to post updates can drastically increase visibility.
There are more than 25 different elements of Google My Business. So make sure you're using it to its fullest.
2. Post Photos to Google My Business
Have great pictures of your work, your team, and your happy customers? Share them with the world on Google My Business. Listings with more photos get more views and engagements and appear more often in searches.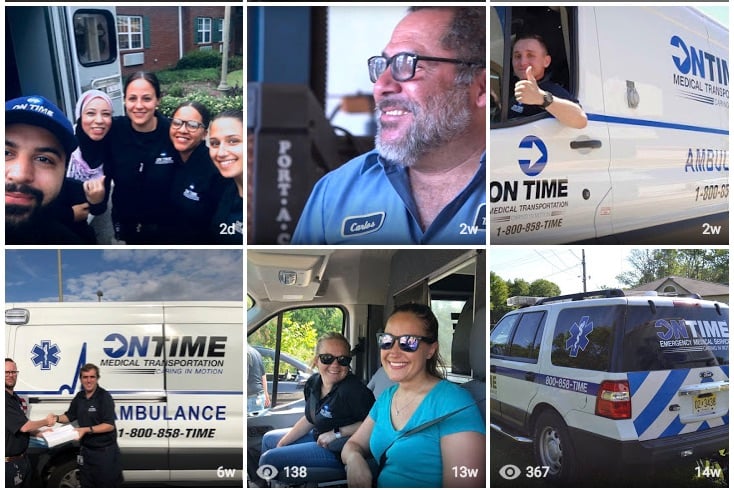 3. Optimize web pages for search results
Optimizing and updating your page titles and meta descriptions will help entice searchers to click onto your website, driving a higher click through rate and increased visibility. Below are two different results for the search "electrical contractor los angeles." The first example has done a good job optimizing, the second has not.


In the first example, Brentwood Electrical uses keywords, explains who they are and what they do, and encourages you to take action by calling for a free estimate.
In contrast, the second example here, Rosendin Electric, does not use any keywords in their page title nor do they provide an enticing and relevant description. Don't make the same mistake.
4. Maintain listing consistency across the web
Make sure that, at bare minimum, your business name, address, and phone number (NAP) are listed correctly and consistently across the internet. Any discrepancies or errors can severely punish you in search engine rankings. If you are still listed at an old address online, you can get hurt big time.
Even seemingly little things like suite number can make a big difference. You can sign up for different directory sites manually, or use bulk listing management software.
5. Implement a Google review strategy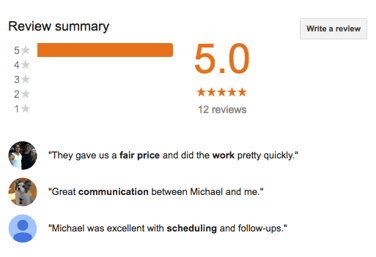 Actively encourage happy customers to leave you positive reviews! This powerful form of social proof will really make your business stand out online. Once you get at least five 5-star detailed reviews, not only will you show up more often, but when you do, customers will view your business as more credible than your competitors with fewer reviews. Also, if you already have any detailed negative reviews, you can bury them and lessen their impact. To really streamline this process, we recommend you set up a custom Google review link at "www.[your-business].com/review" and start sharing it with your loyal and trusted customers.
Don't be afraid to follow up and respond to reviews as well. It shows that you are listening to feedback and you value your customers' input.
6. Use Online Review Engine Software
Beyond that, consider the more high tech approach of using a customer experience and online review engine. This approach will email a feedback survey to the customer list of your choice. Depending on the feedback, the customer will be either prompted to leave a public third party review, or directed immediately to customer service if there is any problem. This software also allows you strategically place reviews on pages of your website, which can drastically improve your lead conversion rate.
7. Use local structured data (the data highlighter) on your website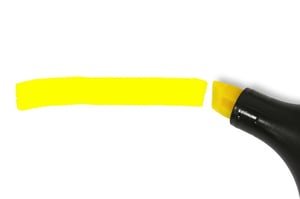 Allowing Google to properly index or "crawl" your website completely and accurately is key to any successful SEO strategy. That's why using snippets of code called local structured data can help your site rank better. This process allows search engines to more easily understand who you are, where you are, and what you do. Best of all, you don't need any coding knowledge to take care of this. Google's Data Highlighter tool allows you to accomplish all this quickly and easily within Google Webmaster Tools. Add all relevant fields to your footer or contact page, and highlight them.
8. Track your improvements with keyword progress reports
Make a list of your most important keywords, load them into a search results monitoring tool, and keep an eye on your progress. You can even enter some of your competitors in to see where they rank well, and how you can overtake them. Monitoring your most lucrative keywords and continually optimizing around them is key. You'll also want to take a look at your overall traffic, your most popular landing pages, and your backlinks.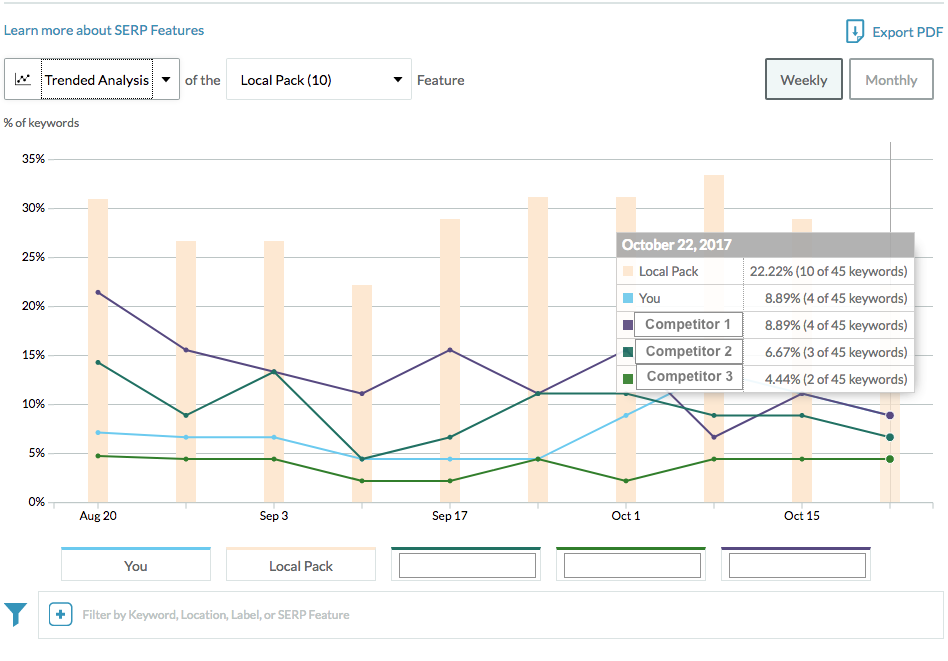 9. Stay active on social media
Maintain an active presence on at least one social channel (Facebook, Instagram, Twitter, etc.) Be authentic (not "salesy") and post about the work you're doing. Even if you're only posting once a week, being active on social will help you rank better in Google searches as well. If you're using Instagram, you can even use a widget and incorporate those photos onto your website.
10. Reconsider other advertising and marketing spends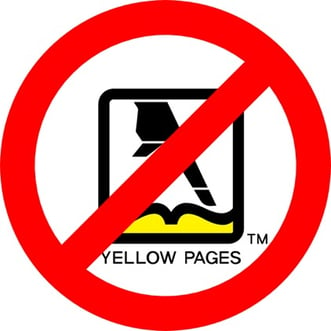 We find that once companies pursue a local SEO strategy, they're often happy to cut spending in other, less effective pursuits. We've seen customers drastically reduce or outright eliminate spending on the Yellow Pages, Home Advisor, Angie's List, billboards, radio, print ads, pay-per-click, and more.
Final pro-tip: Consider the average lifetime value of a new customer for your business. Try to put a number on it. If you can understand this, you can start really looking at what kind of return you're getting on your SEO investment.
So there you have it --- ten current and actionable steps to proper local SEO. Get started with these tips today and the sky's the limit of how far you can go. But the longer you wait, the harder it will be to build up momentum.