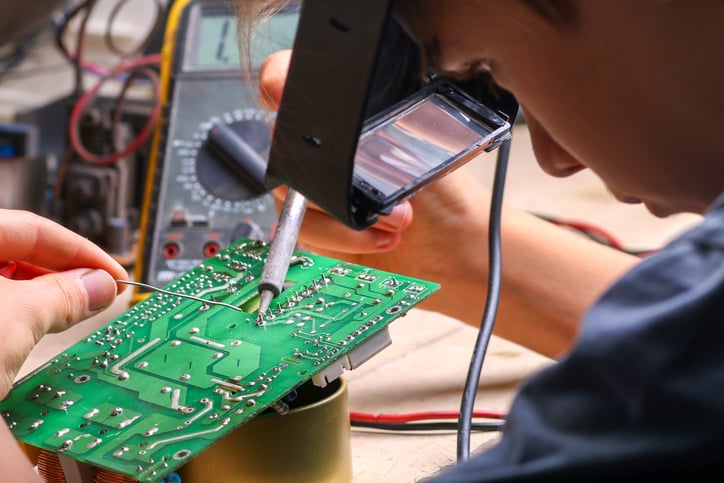 Here's a look at how you can tweak your website so it shows up on Google more.
It's funny how things turn out sometimes. I never imagined I'd be in the SEO business. I started out doing commercial graphic design, transitioned into designing websites, and now own and operate a web marketing firm.
But what used to be, "we really need a company website," turned into, "we need our company website to show up first on Google."
Now that we manage local SEO for a variety of different verticals including, healthcare, interior design, millwork, auto repair, video production, and electrical contracting, we've seen a thing or two.
I figured it might be helpful to sort of map out ten things you must be doing to show up first on a Google local search. It really doesn't matter what particular industry you're in, if you need to show up in searches for "[my service] in [my area]" you'll want to follow along.
10 Web Presence Tips for Local Businesses in 2019
Have a simple, accessible, mobile-friendly website.
Step one is to make sure you have a website that works properly and displays ALL of the necessary and relevant information for your prospects and customers.
It must work seamlessly on all devices and must not take too long to load. We have talked at length about this in the past, so we won't dive deeper here. But needless to say, in 2019 having a decent website is a prerequisite to getting into the class.
If you have a site with a lot of pages --- make sure that you're organizing them appropriately using a pillar page structure model.
Use Google My Business obsessively.
We've all seen it --- but we might not know it by it's name. Google My Business is an absolute must have and is the backbone of your web presence (in many industries it's actually MORE important than the site itself).
So you'll need to understand this platform and log into it regularly.
Here's just a few of the things you'll need to do on there:
Update all your business information (name, address, URL, hours, phone, email, etc.)

Post pictures. (Of your team, your work, happy customers, etc.)

Share updates using the posts feature.

Answer questions on the Q&A section.

Respond directly to customer messages.

See metrics about how your listing is performing (calls, clicks, directions, etc.)

Respond to your reviews (positive and especially negative).
Document your work (photos, captions, social posts).
For the love of God --- take some pictures while you're working. Most companies don't document their work effectively. They don't stop to think and say, "Hey, if I took a few pictures of this project and what I'm doing/fixing right here, some people might really find this interesting."
Start taking pictures of your jobs and documenting the process. Upload them to a cloud service platform like Dropbox or Google Drive. Add appropriate captions to explain what's going on in the photos. Start doing this a lot. After a little while, you'll have a nice library of content that you can share on Google My Business and on Facebook or Instagram.
Understand your target demographic.
What questions are your customers asking you all the time? What's something that you wish your target demographic knew that they usually don't? What is your geographic area like? Are you hoping to go after a new market? Visualize your ideal customer. Understand this person(s).
Make a list of keywords.
What keywords are you trying to target? What would someone use to find your business?
service in [my state]
service [my city]
service [my town]
service near me
The more the merrier here. Sit down with your team and have a brainstorming session. I'm sure you'll come up with some good variations. Combine that with keyword research on volume to see exactly how often different terms are being searched. Keyword variation 2 might be much more frequently than keyword variation 1.
Map out the best service areas around you.
Is a certain area near you less desirable than another? How do you make sure that you're getting found by people in your ideal geographic region?
Well, first you have to know what your ideal geographic region is. And be realistic here. You can't say like, "Yeah, our service area is the Eastern Seaboard."
You don't have to go crazy here either. But definitely highlight at least your top ten zip codes and/or counties. Expand from there.
Make sure that all business info online is accurate, complete and consistent.
You can use a service for this, or you can do it manually, but make sure that all the info out there is consistent and true. You might think, "Who cares if some website I've never heard of has my old phone number on there. I don't have time for that."
Well, unfortunately, sometimes Google does. So clean up your act and get all that stuff together. You can track your progress using this free scorecard tool.
Services like Yext and Moz Local are certainly recommended if not absolutely necessary.
Pro tip: Don't pay Yelp. We get this question a lot where a client gets a call from a Yelp representative. We always recommend steering clear.
Close the loop. (Track how new customers are finding you).
How many customers did you get from the internet last month? How many from word of mouth? How many from your mailer campaign?
You won't know if you don't close the loop and ask all your customers how they found you. Start tracking this extremely important metric. It can be hard, but collecting some data is way better than flying blind. At the very least, cross reference your web contacts with your customer database. Or better yet, use HubSpot.
What's your conversion rate? What's the average lifetime value of a customer for you? You should have all these answers.
Ask your customers to review you on Google.
Don't be shy now. Ask your customers to leave you third party feedback on Google, Facebook, Yelp, etc. Whether you use a review management software platform, set up a custom review link, or just ask customers to review you on Google --- start doing this right now. Sorry, but no one cares how many nice letters you received from happy customers. If it's not in the right spot, that positive feedback might as well not exist.
Cut back on outdated and ineffective marketing spends.
Great news. Now that you've invested in your organic web presence, you can now confidently pull the plug on:
Billboards, radio ads, yellow page ads, shopping center placards, radio spots, diner menus, sponsoring a local baseball team, magazine ads, expensive trade shows, and any other wacky marketing tactics you may or may not be doing.
Depending on what you're doing currently, this might be a major relief.
So there you have it. Ten tips for your web presence in 2019. Whether you work with a web marketing agency or you do it yourself, make sure that you're taking care of your best and most important marketing channel… your web presence.
John Tedesco is the Creative Director of JAM Graphics. When he's not working, you can find him practicing MMA, or traveling to Disney World with his family.