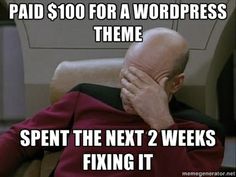 Here's why we don't use Wordpress.

When I started this company in 2008, I was asked to design websites because I have creative and graphic design ability. I didn't know how to build websites so I ventured toward Wordpress. And why not.. it's free! You can pick from tons of free themes and customize the site as you wish! All of the code was yours too... but as a graphic artist, it was very time consuming trying to figure out how to write it how Wordpress wanted me to write it... it was so difficult making my graphics come to life on a website using Wordpress's tools.. and the clients who wanted me, didn't want to pick from a theme.. they wanted something custom. So I had to figure out how to write code for myself.. with my own content management system.

So why didn't I just hire a Wordpress guy to build my sites... well it's not that simple. There are still limitations within code. It's important to know how to build a website when you're just designing websites. In the beginning I had to go back to my design a million times because I simply couldn't 'build it' the way I designed it. This is like a tool bag. The more I built my own websites, the more tools I'd have in my 'design bag' to design with. I learned quickly what I COULD do and what I COULDN'T do.. so I designed accordingly.

Not only that.. but hitting walls while writing code would force me to think quickly and design on a dime in the middle of development because of something with the code that didn't allow for something I may have designed one way.. I could quickly think of another way to code an aspect of the site to stay as close to the design as possible.

This has been a recipe for design since day one. Our graphic designers MUST be coders in order to come up with a realistic design that works and functions the way it should from start to finish. You can't have your favorite painter paint you a house and have your architect build it because the painter doesn't know how a house needs to be built!

Further down the line we've had plenty of calls from clients who simply couldn't get some certain programming done by their 'Wordpress' developer and has called us. Well 9 times out of 10, we overhaul their website and give them something completely new with a custom CMS that we've built.. simply cause 'we can't either!'. Wordpress customizations are very complicated and without an EXPERT EXPERT WORDPRESS programmer, you won't be able to do it.. and if you do... you'll have to find another one when that one goes away... yes... they go away. So our system is built with solid CLEAN PHP and a MySql database. This is programming 101 and ANY programmer out of college would be able to take over... control the system... update it and add to it... easily.

Another time we had a client call us with their wordpress site and complain of their SPAMMING issues with their wordpress site. Why is my site getting spammed? Why is there code for Viagra inside my website's code? who put it there? You see... hackers and robots can easily hack wordpress sites because their file structure is the same. yourdomain.com/wp-admin/admin.php /wp-admin /wp-admin... every single website. our file structure is different... unique... custom. No hacking... no spamming... it's nice.

So the era for JAM Graphics custom website design and development was born. And that's that. Our clients are HELL-BENT on acquiring a Custom professionally designed website by JAM Graphics. We ensure them what they get is unique. and we NEVER say "We can't do it that way, or we can't do it at all"... custom programming and web applications are our forte and when a client needs something custom.. it is done. And our entire team at JAM Graphics can do it.. on the fly.

So if you are HELL-BENT on a wordpress site... we wish you the best of luck as I'm sure it will be just fine and you will get everything you've hoped for and for a cheap cheap price, after all what's the difference between a KIA SOUL and an AUDI R8? We've turned away plenty of prospects looking for wordpress developments and unable to find the reason to pay a little extra for something custom. 50% of the time.. they come back after they've lost a year trying it with Wordpress.